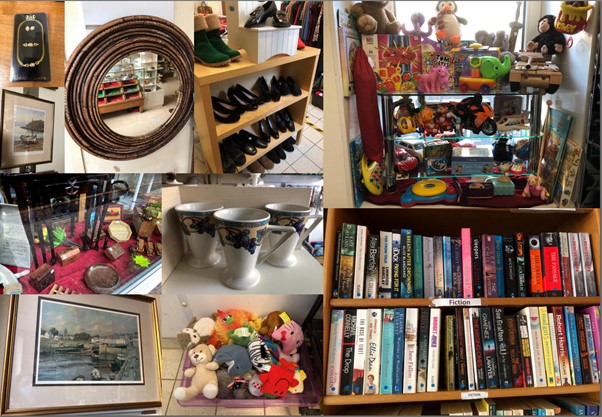 MDC Charity Shop - The Bread of Life
6 Craigour Road, Torphins
Tel 07899 602952
OPENING HOURS Wednesdays and Fridays 10.00 am to 3.00 pm, Saturdays 10.00 to 1.00 pm
WHAT WE SELL A wide selection of very good quality donated items spread across two rooms all very well presented and all on the one level. Items for sale include clothes, shoes, furnishings, bric-a-brac, books and DVDs, children's toys and clothes, paintings, jewellery and homeware.
DONATIONS - We welcome donations of :
Women's, men's and children's clothing and shoes
Toys and games
Books, DVDs and CDs
Accessories, belts, handbags
Jewellery, bric-a-brac, crockery and ornaments
Glassware, bakeware
Household linen
Sorry, the shop cannot accept furniture or electrical goods, baby safety equipment, cycle helmets and some other items.
We accept donations during opening hours on Fridays and Saturdays only.
VOLUNTEERS
New volunteers to help run the shop are always very welcome. Previous experience not required. Want to know more? Come down to the shop on a Wednesday, Friday or Saturday and one of the team will be delighted to show you around and give you a flavour of what happens. Ask for an application form
WHAT WE DO WITH THE SURPLUS RAISED FROM YOUR DONATIONS
The purpose of the charity shop is to promote the charitable, community, outreach and mission work of the church within the Mid Deeside Parish boundary. This includes the villages of Kincardine O'Neil, Lumphanan, Torphins and Tornaveen. All net proceeds are allocated to the mission/outreach work of the church, including donations to other local charities, community groups and good causes. Written requests for funds are encouraged and charity shop volunteers make recommendations which are then approved or adjusted by the Kirk Session who are the Trustees of Mid Deeside Church.
TO APPLY FOR GRANT FUNDING:
Please complete the application form attached at the bottom of this page and return it to the Shop Management Team, either by visiting the shop or by post to the Bread of life, c/o Mid Deeside Parish Church, St Marnan Road, Torphins, AB31 4JQ.
Grants are normally awarded twice yearly.
The Bread of Life Application Form